Extracts from my work-in-progress translation of Janko Polić Kamov's revolutionary, modernist novel 'Isušena kaljuža' (working title 'The Dried Up Mire').
These extracts are from the first part of the novel 'Na dnu' ('At the Bottom').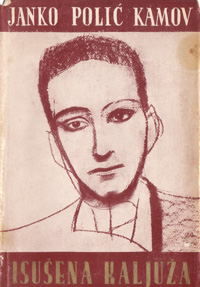 They set off on a walk. Across the square passed a funeral, a long cortège of men, women and some kind of craftsmen's guild. The music slowly followed the sad and boring step, under the gloomy sky, on the unbearable Sunday, which had closed the shops, cleaned the marketplace, brought people out for a walk or made them yawn at the windows of their houses. It was after noon. There were people at the side, who were looking blankly at the procession. The colourful robes, both genders, young and old, all with the same looks, which were neither of sadness nor curiosity, but of a kind of long, protracted and half-dead look, that notices nothing, but sees everything. The tolling of bells rang out like somebody's voices breaking up then returning, sinking and re-merging like a castaway at sea. Arsen stared at the coffin. Behind it there cried one young woman, throwing her head wildly into a handkerchief and twitching her shoulders as though wanting to shake off some burden. One gentleman was reconciling her, but she just shook her head all the more wildly and the sounds like a torn crack came crashing down onto the white coffin and the stinking corpse inside it. "She's crying" and immediately Arsen wants a young woman to cry for him upon his death too, dressed in black, with red-hot cheeks, and that she throws her head into a handkerchief and touches her tears with her nose. He was moved. He was watching her listening to her sob, captivating, sweet and rich. "Yes, this kind of sobbing…Whilst I would be lying inside damp planks, on which the paint had not yet dried. In gold writing:Arsen Toplek – the people will read and whoever remembers that they knew this man will feel sorry for the dead youth and also for that dark, red-hot woman who cries for him…Even she is young…"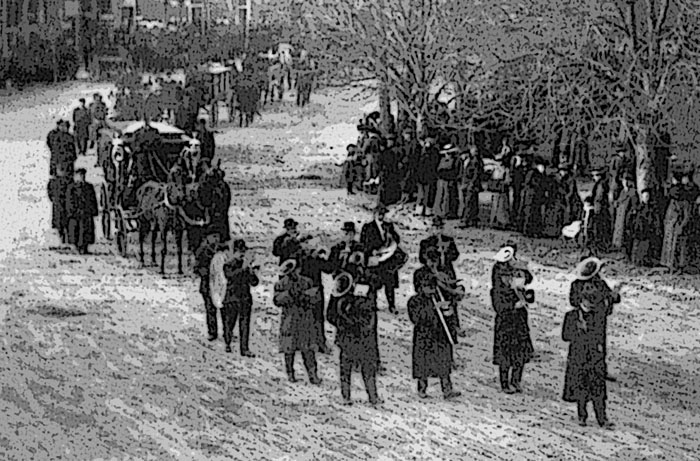 "No, brother workers! Our struggle will be as peaceful as our conscience. And whoever interferes with our conscience, let them quickly realise, that our conscience is the conscience of millions." There then erupts shouting and clapping amidst the raised arms, which were flailing around in the smoky light. Arsen, agitated, not being able to handle the feelings of fear and elation that were unconsciously gushing out of him, seizes upon the impression of those arms. To him they seemed blackened and scraggy, bristling like the fingers of a huge beast that would lacerate the world and blow apart existence. The same man continued, raising his voice, as though the past of a destitute old drunkard was emanating from his mouth.
At that moment the police broke down the door with bare sabres and called upon them to "disperse in the name of the law." Arsen didn't hear what happened next. Several chairs were knocked over, some glasses were smashed and the restaurant began to empty. Inside a sabre still flashed around as did several bare heads that couldn't reach the door immediately. Arsen felt a sharp blow to his back, and then the thrust of pale people trembling from anger and fear pushed him outside. Only then did Arsen see two guards striking a woman with their sabres on the other side of the street and shouting something unclear he moved closer. But they immediately left her, because at the other door the guards were still scuffling with the crowd, which was resisting with sticks and offensive shouting.
Translated from the original Croatian novel 'Isušena kaljuža' written by Janko Polić Kamov (as yet not translated or published in English) by Martin Mayhew
Sva prava pridržana / All rights reserved
*****************************
U potrazi sam za sponzorstvom ili drugim oblikom financijske potpore kao i prikladnog izdavača (za tisak knjige ili e-book verzije) kako bih završio svoj prijevod svih djela Janka Polića Kamova. Na prijevodu sam njegovih djela s hrvatskog na engleski jezik radim od 2012. godine. Tijekom tog procesa stvaram jedinstveni rječnik fraza i arhaičnih riječi koje Kamov koristi u svojim djelima, kao odraz i osobnog autorskog stila ali i vremena u kojem je pisao. Taj bi se rječnik mogao koristiti od strane budućih prevoditelja zainteresiranih za ovo značajno razdoblje hrvatske književnosti.
Molim vas, kontaktirajte me ako ste zainteresirani.
I am looking for sponsorship or funding and a suitable publisher (printed or online) in order to complete my translations of all of Kamov's work. I have been working on translating his works into English since 2012. During this process I am compiling a unique glossary which could be used by future translators interested in this important period of Croatian literature.
You can read more about my work here: interview
Please contact me if you are interested.
Get more Kamov in English quotes on Twitter