Rijeka and Brighton – a brief comparison prompted by the opening day of Rijeka's European Capital of Culture year in February 2020.
It was almost 20 years ago to the day that I first came to Croatia, more specifically to Cres, Opatija and Rijeka. I was here to write a travel piece for a Brighton based magazine for which I was the production assistant – when the editor called out across our office "who wants to go to Croatia for a week?" I stuck my hand into the air eagerly although not being 100% sure about where I'd be going. On that trip, I experienced a tiny piece of Croatian life and the Rijeka Carnival and was greatly impressed. In 2003, I left Brighton and Hove (the city's full title) and moved to Rijeka.

In the following years, I visited many parts of the country but I always thought that the city was different and even the Croats I met on those trips told me that Rijeka stood out as being alternative. From music to art to literature this city has proved this to me with the opening of the Rijeka 2020 – European Capital of Culture (ECoC) this February and it made me realise that Brighton and Rijeka have several things in common so I put together a list:
They are both cities by the sea – south of their capitals – obvious I know. Brighton is the closest big city to London and a huge tourist destination. Rijeka is Croatia's third-largest city, not, unfortunately, a big tourist destination, however, in the past it was a very important industrial and transport hub and with ECoC and all that this investment, opportunity and status will bring, it now has much more potential.
Theatres – both cities have theatres which came into popular use in the late-19th century. In Brighton the Theatre Royal and in Rijeka the Croatian National Theatre Ivan pl. Zajc. In each city, there is also an unused venue. Rijeka's Opera hall was recently opened for the opening day of ECoC when several rock bands played well into the night and it has recently hosted a dance event, which will surely boost its rejuvenation. Whilst in Brighton the Hippodrome's future is still in the balance. Both these venues have seen better days during their century-long lives.


Both cities have old original cinema theatres. The Duke of Yorks picture house in Brighton is an art-house cinema. It was one of the first in the world and was opened in 1910. It has experienced many lows and highs over the years but has survived and today it is still the oldest working movie theatre in the UK. Rijeka has Art-kino, which under a different name was founded about 1928 and then went through many variations and premises over the decades. The movies were incredibly popular in Rijeka, with films being shown from all parts of Europe, America and the Soviet Union. In fact, at one point in time Rijeka county had more cinemas screens than any other town in Croatia (45) and in the first six months of 1950 more than 750,000 cinema tickets were sold in the city. A law was even in force at the time which meant that the sale of tickets by touts outside before a popular film was screened became a criminal offence – those found guilty were fined, imprisoned or even expelled from the county! During Rijeka 2020 ECoC there will several locations arranged for open-air film screenings around the city and even on the roofs of tower blocks. Brighton also has open-air cinema shows during the summer. Both cities also have multiplex cinema complexes, however, these two small independent art-house cinemas have survived where other theatres have disappeared or been repurposed, and they still draw in the crowds.

Graffiti and murals. Both cities are adorned with murals and let's say artistic graffiti. With tasteful and professional illustrations buildings, parks and other public spaces can be really brought to life, enhance the image and even become talking points and landmarks of towns and cities in place of drab, grey, depressing, crumbling structures. During Rijeka 2020 ECoC there will be an international festival of murals and street art will appear around the city painted by local and foreign artists.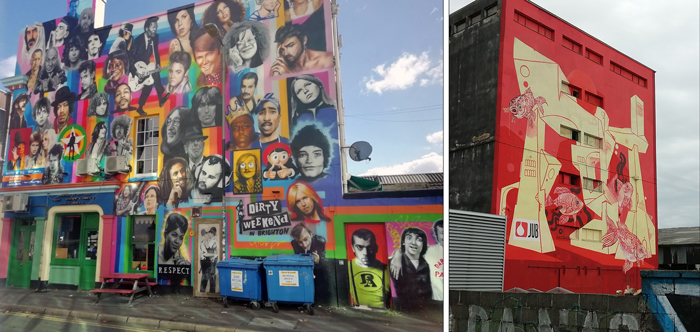 Rijeka was and still is a centre of new music. In the 60s the first rock bands in the former Yugoslavia emerged here, in the 70s and 80s punk and new wave groups such as Paraf flourished. Later in the 90s and early 2000s, the club and dance scene was led by the Fun Academy and Quorum Colours. Brighton has always been an innovative place for new music. In the late 80s and 90s, it was a key place for the emerging dance and rave scene, which I really enjoyed. In the mid-90s I played bass in a rock band. My friends and I did it for the joy of music – we didn't expect to be famous – we weren't – but like so many others we did it for the fun of playing. 3-4 times a week we went to gigs, in pubs and clubs. This is similar to the feeling I have in Rijeka now – there is a varied musical scene, from flamenco to bluegrass and I have got to know several musicians by helping them with their English language as well as reminiscing about the heady 90s rave scene and concerts by bands that people here would have enjoyed seeing. Of course, all the musicians I've met here are much more proficient and professional than I was back then. One particular star from Brighton, Fatboy Slim has played in Croatia several times and Nick Cave, who is immensely popular in Croatia lived there for many years (bumped into him twice in Brighton's shops).
Brighton is one of the key centres for the publication of The Big Issue magazine which was established in 1991 to help homeless people get back on their feet and make a small living from writing and selling the magazine. The Big Issue was one inspiration for Rijeka's own magazine called Ulične svjetiljke which is now sold throughout Croatia.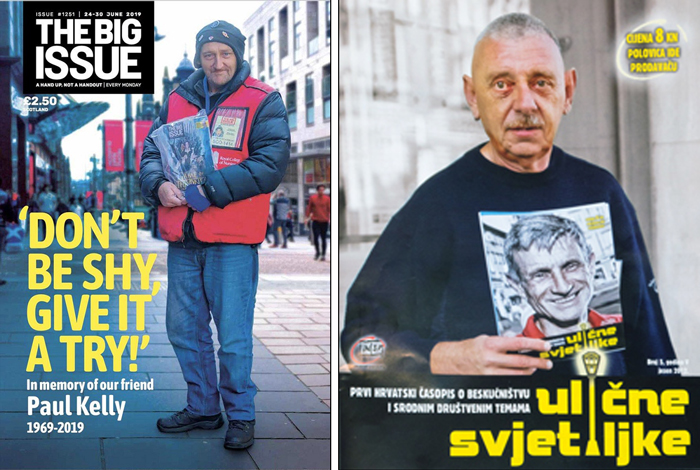 Universities – both cities have renowned universities and big student populations. Several campuses and faculties are spread around each city. The students' energy and enthusiasm are a constant drive in both communities. And of course, with large numbers of students come festivals and events to cater for them. Rijeka has the multi-day Student Day Festival – the largest in the region, which has just celebrated its 10th anniversary. It features cultural, educational, sports, humanitarian, entertainment and scientific events for up to 40,000 students from Rijeka, all over Croatia as well as nearby countries. The highlight being the weekend of free concerts in the very centre of the city featuring famous local names – something that made me reminisce of student gigs back in the early 90s in Brighton.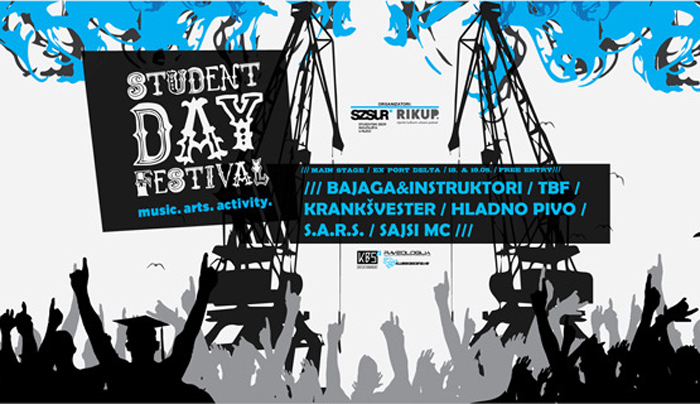 In Brighton the culture of recycling is firmly established. It is the only city in the UK which has a Green Party Member of Parliament. In the city, every household has separate bins for each kind of waste that is then collected by the council and dealt with. The City of Rijeka is trying – with separate containers for waste plastic, paper and glass for each neighbourhood, and it regularly distributes leaflets about how to cut down on unnecessary waste and raise awareness of recycling. Recently the city received more money from the government for the expansion of its recycling facilities. There is also one excellent initiative in the city called Riperaj, which is Croatia's first repair café. It was opened in late 2019 and offers its citizens a free repair service (excluding any necessary spare parts) for their household electrical items and furniture and anything that would otherwise be thrown into the rubbish and end up in a landfill. It also offers a programme of workshops for everyone who wants to learn more about recycling and repairing household equipment. Repair cafés are a rapidly worldwide growing concept. Brighton also has its own Repair Café which was opened in 2012. During ECoC there are several green initiatives, such as Zeleni Val, beginning in Rijeka including the conversion of previously unused roofs of tower blocks into gardens and the greening of deserted areas owned by the city. Something that the local communities are invited to get involved with.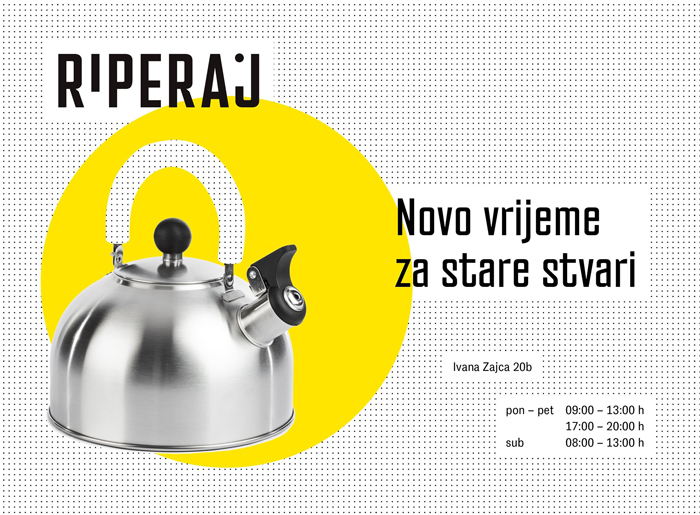 There are many other ways which Rijeka could also benefit from sustainable and renewable energy. Off the coast of Brighton, there is a massive wind farm with more than 100 windmills. Imagine the electricity which could be generated when the fierce "bura" wind blows!! Solar power too when considering the number of sunshine hours which the Adriatic Sea enjoys – in fact, a solar power plant on the nearby island of Cres is due to be constructed. Recently the Port of Rijeka was given a waste collection device – the Seabin – the first in Croatian waters. This simple, inexpensive bin for collecting surface waste is a global initiative that aims to clean up the water around harbours and ports.
Brighton has a very big gay community. The Brighton Pride Festival is the largest and proudest LGBT event in the UK with an average of 450,000 attendees every year. Although Rijeka does not come close to this kind of event, it is important to note that in 2013 the people of Rijeka voted against the proposed Article 61 of the Croatian Constitution which was upheld nationally as proclaiming that "Marriage is a living union between a woman and a man" – effectively meaning same-sex marriage is unconstitutional. Croatia's first lesbian organisation – LORI – was established in 2000 in Rijeka and it supports the rights of the LGBT community in society. During ECoC there will be the annual Smoqua festival of LGBT culture which will feature performances, a concert, an exhibition, artist and activist interventions in public spaces, workshops, panel discussions and other activities in order to introduce visitors to the importance of queer and feminist history and it will be attended by participants from around the world. Just recently, in 2019 a new website, aimed at gay travellers and tourists was launched by a woman from Rijeka – gaytravelcroatia.net. Since living in Rijeka I have met many friendly, open-minded people of all generations from school children and pensioners, artists, writers, musicians and professors with whom I share the same passions, opinions and positive outlooks as those I know back in Brighton. Although the two cities do not share similar histories, I think that Rijeka's past has only added to its diversity and tolerance for others as well as the desire for change and improvement.


Both Rijeka and Brighton like to feel as though they are different and independent. People visit Brighton for a weekend away, for the arts, nightlife and shopping. The community feeling is very close. In the 2016 Brexit referendum 68% of Brighton's residents voted to remain in the EU. For me, Rijeka too has a similar feeling – immediately after the ECoC opening ceremony on the blackboard of a popular bar in Rijeka – Caffe la Guardia – whose daily pearls of wisdom over the years have been highly amusing and succinct, stirred up some reactions – read into this what you will.…..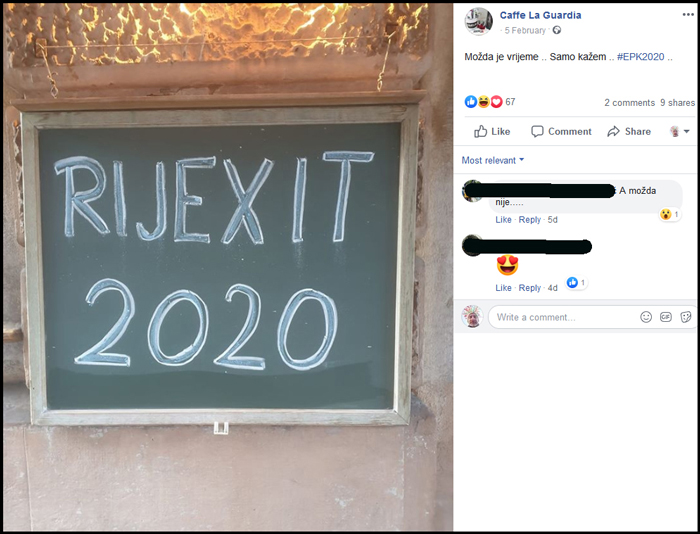 Of course, this is just a quick list of things that immediately came to my mind after enjoying the opening ceremony of Rijeka's year of holding the title of European City of Culture – many people I spoke to in the days following that day agreed that Rijeka should have a similar, although more modest, event every year. The year-long programme and the lasting effects after 2020 could be the initiator for a new annual Rijeka festival – RiStartFest (?) which would bring extra energy and interest to the city just like Brighton's world-famous Festival. 
Late February saw the annual Rijeka Carnival Parade through the city centre. An extra special event this year to celebrate the European Capital of Culture, and something that I experienced 20 years ago on my first visit to Croatia. Every year I am always impressed by the effort, ingenuity and joy that its people can create and in doing so make it unique – just like my previous home of Brighton.
So Rijeka, in the words of your own annual carnival slogan may you always "be what you want to be."