The 3rd January 1967 issue of džuboks (i.e. Jukebox) magazine (no. 9!) published in Yugoslavia (Belgrade, Serbia) featured a short 2–page spread interview with John Lennon by Zdenko Hirschler (Hiršler) in Spain during the filming of How I Won The War. It was during this period that John wrote the song Strawberry Fields Forever. I think this is the first time the feature has been translated.
The photos featured were taken by Hirschler and are seemingly some of those in a batch of 200 previously unseen images auctioned in 2016 after the photographer's death. Lennon is photographed here with co-actor Roy Kinnear and playing cricket. Reports from 2016 say that Zdenko Hirschler was Austrian, however, I haven't found any information about him online. The article says that he worked for the NME – again I cannot find any info….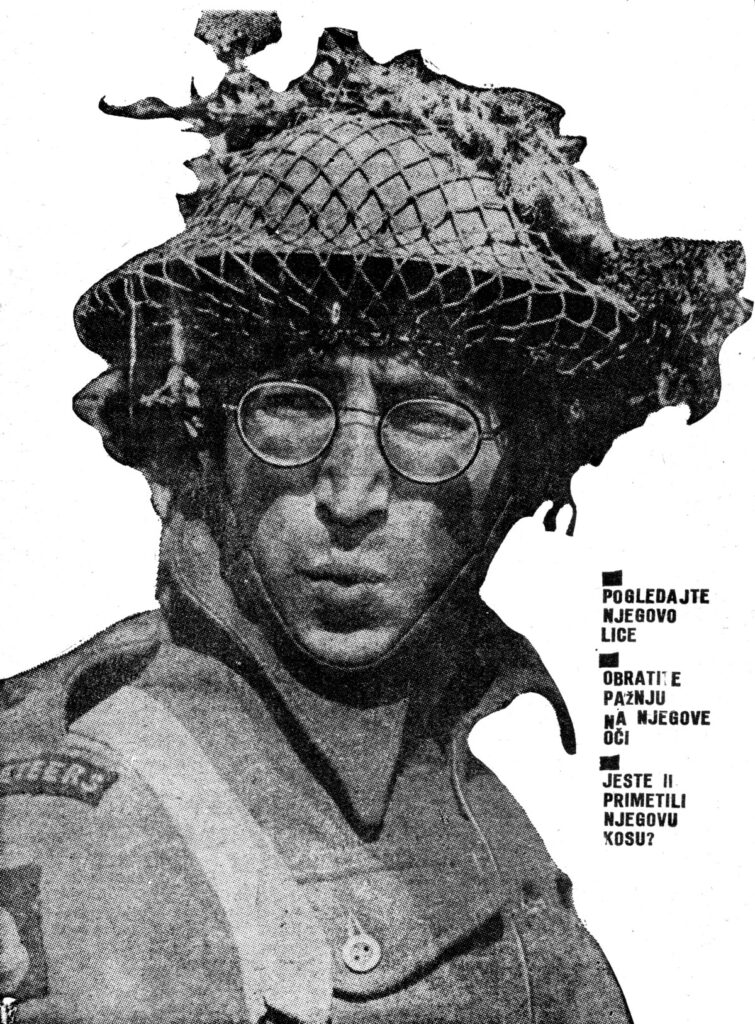 ZDENKO HIRSCHLER, JOURNALIST FROM THE NEW MUSICAL EXPRESS, ESPECIALLY FOR DŽUBOKS
"NO ONE CAN BE A BEATLE PASSED THIRTY"
An exclusive interview with The Beatles' John Lennon in Spain
Do you recognise this face?
You probably thought: Peter Sellers before he was married. Or maybe a Chaplin impersonator? Or a chap serving his military service?
All your assumptions are wrong: it is him, JOHN LENNON, the one whose days amongst The Beatles are, perhaps, numbered.
He knows that himself!
I met him in a small town on the Spanish coast, where he is shooting the film How I Won The War, which is being directed by Richard Lester (Help, A Hard Day's Night).
"Look", says Lennon "in a few days, I'll be twenty-six years old. For the last six years, I've lived like a Beatle. It was a nice life, full of good laughs, but it can't last forever. Now I'm trying to do something else. A few years ago I tried to paint, write and sculpt. Now acting is next. It's funny. It's hard. It's different. When I see myself on the big screen, I will be able to say something more about my future. Then I will know if this is the 'right' thing for me!"
"Did fatigue force you to take such a step? Is it tiring to be a Beatle?"
"Oh, no, not at all. That is something else. It's like finishing school on time. It's a problem for all of us. George was in India recently, walking and shopping, and learning to play the sitar (an Indian musical instrument). Paul bought a new house in north London. The house was built in 1830 and Paul doesn't hide his joy that the house is one of the most beautiful in England. Now he's thrown himself wholeheartedly into decorating the interior and doesn't think about anything else. Ringo recently visited me here in Spain to make sure I was actually making a real, serious film. Each of us has faced the same dilemma, not a problem, but a dilemma: what to do in the future? We often get together and talk about that future and never see it as the future of The Beatles!"
"Why did you cut your hair?"
"It was of big importance for my role in the film. Hair has nothing to do with the future. In the film, I play the role of an English soldier named Gripweed, and in that time of action, soldiers had short hair. I had it cut in Germany…"
"Well that's awful, the fans must have been upset?"
"Not at all! At first, I felt very strange, but I also immediately saw the good sides of doing this. I was able to calmly walk down the streets and no one recognised me as a Beatle. Not the press, nor the fans. It's like suddenly finding freedom. When Paul went to Paris for the weekend, no one gave him any peace. They saw him with that hair of his and went after him, followed him, asking for his autograph. Nobody recognised me. Of course, apart from when I was with the others. People then logically concluded (people are so intelligent today) that it was me!"
"And the glasses?"
"I didn't wear glasses then, only contact lenses. Contact lenses are more practical. I hate glasses because I'm always losing them. It's a problem for all of us in the crew: I've lost more than a dozen pairs so far. They brought along a total of twenty of them, so I hope I'll have at least one pair by the end of filming."
"When will the filming be finished?"
"Altogether the filming lasts ten weeks. We filmed for four weeks in Germany, the rest here. It's lovely here, warm, quiet…"
Also staying with John Lennon here in Spain are his wife Cynthia and three-year-old son Julian. The family lives a peaceful life and no one disturbs them except Richard Lester.
Lennon's working day begins at seven in the morning. Like the other actors, he has to be on set at 7:30. For weeks now, Lennon has been working all day, although he often says that he is "certainly one of the laziest people in England." His laziness excludes activities such as talking, reading, listening or watching. He always enjoys it, these are the mental activities that he has been engaged in for the last few months before the start of filming.
Lennon does not have any kind of privileges during the filming. He is just one of the actors amongst dozens of others. He, of course, has his own chair and sits there during the long intervals and playing cricket with the other boys from the crew. Cricket is part of his role and he oddly enjoys it.
A Spanish journalist asked him an unusual question: if by some chance he were not a human being, which animal would he like to be?
"A cat", he said with a smile, "a beautiful, big, well-fed, lazy cat!"
Lennon has to be on set even when his scenes are not being filmed because Lester is constantly changing his ideas and wants to pass on those changes to him at all times. In the uniform of the soldier Gripweed, Lennon is far from the long-haired, carefree and well-known Beatle. In his big military boots, baggy trousers and glasses he seems like a tiny, pathetic figure constantly exposed to the whipping wind in the desert where the film is being shot. I asked him a question:
"Will you ever find your way back to The Beatles? In this place, it seems that you are further away from them than ever…?"
"There's no doubt about that. Nothing dramatic will happen to us in the near future. We are great friends and in January, we start shooting our new film together. Ringo stayed here with me recently, and soon we will meet up with Paul and George. I still make joint plans despite the fact that we are getting older every day and no one can be a Beatle when they turn thirty… You see, I took on the role in this film because at that time, as a group, we didn't have any kind of commitments… So don't worry about our unanimity, friends!"
Zdenko Hirschler (Hiršler)
****
This issue came with an A3 colour poster of The Beatles – one shot from the "trunk" session (there was no free flexi disc with this issue).
More Beatles here