The 11th April 1970 issue of the Yugoslav TV, radio and entertainments magazine Studio featured a 4-page interview with The Beatles' George Harrison by Veljko Despot conducted in London in January 1970. This is the first time it has been translated into English.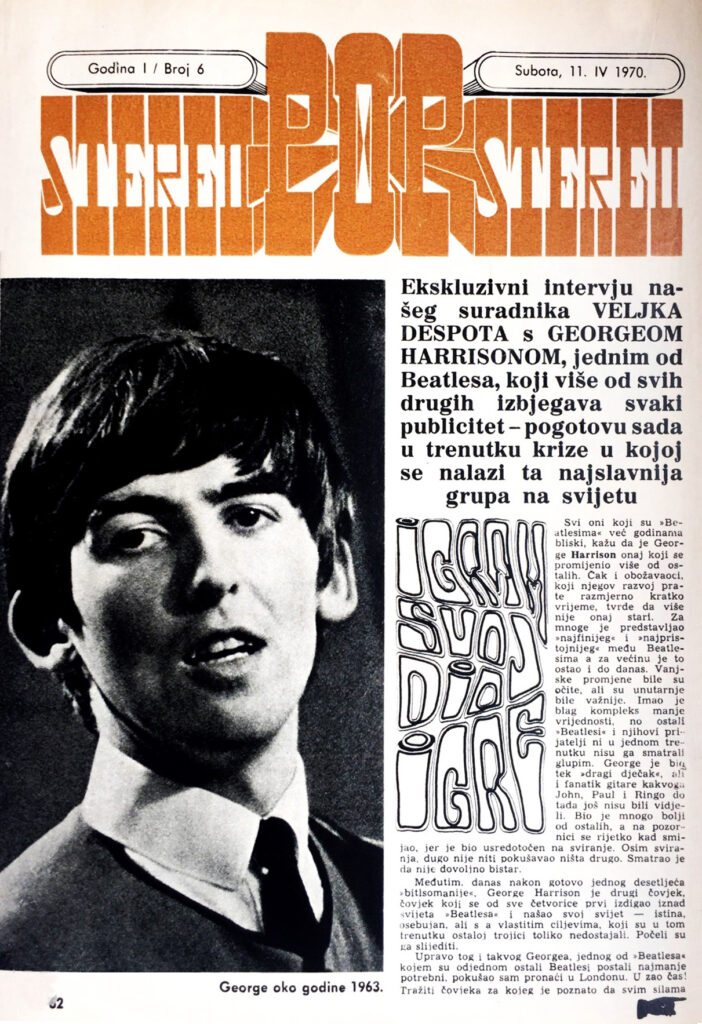 An exclusive interview from our correspondent VELJKO DESPOT with GEORGE HARRISON, one of The Beatles, who more than all the others avoids any publicity – especially now at the moment of crisis in which the most famous group in the world finds itself
All those who have been close to The Beatles for years say that George Harrison is the one who has changed more than the others. Even the fans, who have been following his development for a relatively short time, claim that he is no longer the old one. For many, he has represented the "finest" and "most decent" amongst The Beatles, and for most, he remains so to this day. The external changes were obvious, however, the internal ones have been more important. He had a slight inferiority complex, but the other Beatles and their friends never considered him stupid for a moment. George was just a "dear boy", as well as a guitar fanatic the like of which John, Paul and Ringo had not seen before. He was much better than the others, yet he rarely laughed on stage, because he was so focused on playing. Apart from playing, he didn't try anything else for a long time. He thought he wasn't bright enough.
However, today after almost a decade of Beatlemania, George Harrison is another man, the man who out of all four was the first to rise above the world of The Beatles and found his own world – the truth, distinctive, but with his own goals, which at that moment the other three were lacking so much. They began to follow him.
It was precisely that George, the one of The Beatles who suddenly needed the rest of The Beatles the least, whom I tried to discover in London. At a bad time! To look for the man who is known for avoiding any kind of publicity with all his might and to find him at the moment when his press officer announces to journalists The Beatles' latest decision to stop giving all interviews – at first is discouraging! However, the fact that I'd known George from before and another, perhaps more importantly, fact that he was in such a good mood helped me nevertheless to get this interview.
With very long shaggy hair, a full beard, smiling and extremely kind, he received me in one of the beautiful salons of Apple, The Beatles' company, which is located not far from London's famous Piccadilly. This George Harrison is incredibly thin, tall, with a sharp look and restrained movements. He speaks slowly and calmly, constantly twirling his beard!
In a casual conversation, he found out from me everything he was interested in about the earthquake in Banja Luka, pop music in our country, the work of the Yugoslav Beatles Fan Club in Zagreb and the sale of Beatles' records, and also about nice summer holidays in Yugoslavia. "Oh, what can you do! Somehow I've got used to thinking of holidays as being connected to Greece and Spain."
"The Beatles are also not trying to be Beatles every week of the year"
"George, your wife Pattie once said something interesting about you four Beatles…"
"Her?"
"Yes"
"What?"
"She said: 'I know that they are all parts of one whole. They all belong to one another. George is so connected with the others that I will never fully understand it. No one, not even a wife can get into it. I slowly began to realise that I wouldn't even be able to become a part of that world.' Is that whole still so solid, George?"
He thought to himself and slowly replied:
"I think these things are the same and have always been the same for all the girls or wives, because…You see, it's the same for you, because you didn't become one of the Beatles, I became one. That's exactly why not even you can be a part of that part of my life, which, because of The Beatles, nor did my wife, which doesn't mean that she doesn't understand it either… if you understand me!"
"Yes, but I think you didn't understand me. Because, in fact, I was interested in whether that whole of four parts called The Beatles is still as solid today as it was then. How else to understand John's last statements about possibly leaving The Beatles?"
"Well… I don't know, really! It all depends on what each of us wants to do. I mean, I won't try to break up with The Beatles, because I want them to be with me. Each of us really has complete freedom to do what they want, so if John said that, then that's his business! He has his Plastic Ono Band and The Beatles are also not trying to be Beatles every week of the year. We can do something, for example, an album, and that will make us The Beatles for nine months, let's say… Yes, I think there is enough time for each of us to be what we want to be and to all be The Beatles at the same time. Most likely, this is also the way we'll go."
"But, anyway, you have to admit that it was not fair for John to state that he was not concerned with the success of your song Something in the charts, but with Come Together, because it is his composition…"
Suddenly I felt that I had touched a sore spot for George Harrison. He was quiet for a long time.
"Well, you know… I don't worry about what anyone says or thinks, even if it was him… I mean, sometimes people let you down with what… (sighs)… what they think or say, but… there's no point in being disappointed."
"Conflicts between us originate from too much vanity…"
"John's disagreement with Paul seems really deep. How do you explain that?"
"I think that these are all personal conflicts that originate from vanity, from one's over large "me". I don't know, but I have no problem with John, I have no problem with Paul, I have no problem with Ringo. Maybe I don't have them only because I think there are no problems, and they only have them because they think problems exist. It really is so simple and so complex, but it's all about that "me", which is something that we all have and which is not entirely good, but not entirely bad either. However, sometimes two such "me's" clash and what happened now with the two of them comes about."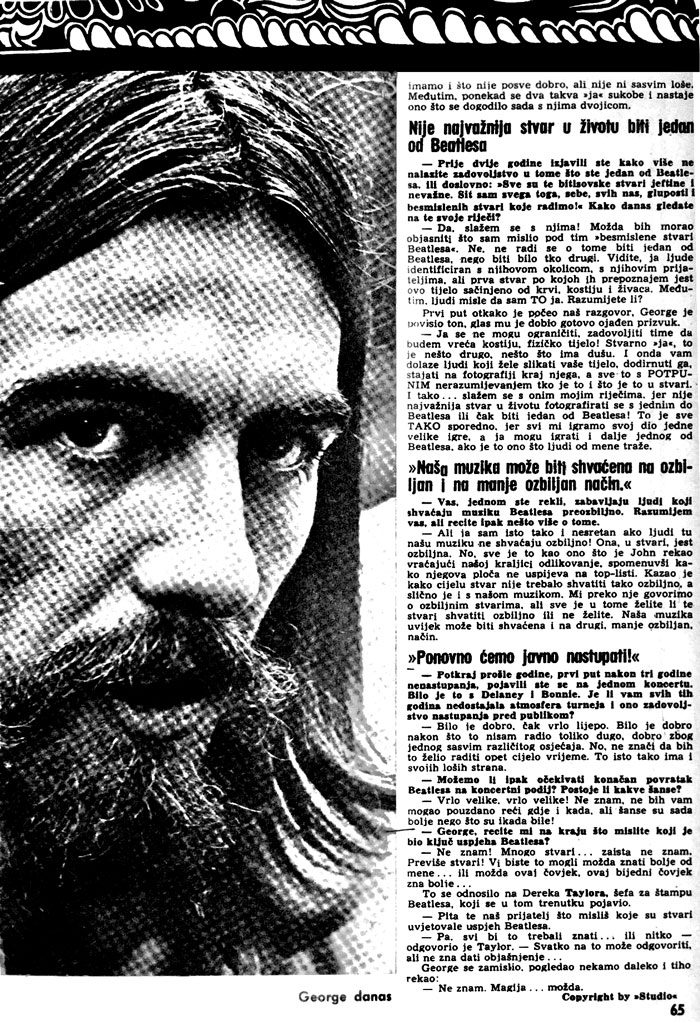 "Being one of The Beatles is not the most important thing in life"
"Two years ago you stated that you no longer find satisfaction in being one of The Beatles, or literally: 'All that Beatles stuff is cheap and unimportant. I'm fed up with all that, myself, all of us, the stupidity and senseless things we do!' What do you think of those words today?"
"Yes, I agree with them! Maybe I should explain what I meant by that 'senseless Beatles stuff'. No, it's not about being one of The Beatles, it's about being anyone else. You see, I identify people with their surroundings, with their friends, however, the first thing I recognise them by is this body made of blood, bones and nerves. However, people think THAT is me. Do you understand?"
For the first time since our conversation began, George raised his tone, his voice taking on an almost distressed overtone.
"I cannot limit myself, be satisfied with being a bag of bones, a physical body! The real "me" is something else, something that has a soul. And then people come to you who want to take pictures of your body, touch it, stand in a photo next to it, and all this with a COMPLETE misunderstanding of who it is and what it really is. And so… I agree with my words, because the most important thing in life is not to be photographed with one of The Beatles or even to be one of The Beatles! It's all SO secondary, because we're all playing our part of one big game, and I can still play one of The Beatles if that's what people want me to do."
"Our music can be understood in a serious and a less serious way"
"You once said that you are amused by people who take The Beatles' music too seriously. I understand you, but anyway, say something more about that."
"But I'm also unhappy if people don't take our music seriously! It is, in reality, serious. But it's all like what John said when returning our medals to the Queen, mentioning how his record was failing in the charts. He said that the whole thing shouldn't have been taken so seriously, and it's the same with our music. We talk about serious things through it, but it's all about whether you want to take those things seriously or not. Our music can be understood in a serious and in another, less serious way."
"We will perform live again!"
"At the end of last year, for the first time after three years of not performing, you appeared at a concert. It was with Delaney & Bonnie. Did you miss the atmosphere of the tours and the pleasure of performing in front of the audience all those years?"
"It was good, even very nice. It was good after not doing it for so long, good for a completely different feeling. But it doesn't mean I'd want to do it again all the time. It also has its downsides."
"Can we still expect the final return of The Beatles to the concert stage? Is there any kind of chance?"
"Very big, a very big chance! I don't know, I couldn't tell you for sure where and when, but the chances are better now than they've ever been!"
"George, tell me, finally, what do you think the key was to The Beatles' success?"
"I don't know! Many things… really I don't know. Too many things! You might know that better than I do… or maybe this man, this poor man knows better…"
This referred to Derek Taylor, The Beatles' press officer, who appeared at that moment.
"Our friend asks you what things you think led to The Beatles' success."
"Well, everyone should know that… or no one" replied Taylor. – "Anyone could answer that, but they wouldn't know how to explain it…"
George thought to himself, looked somewhere far away and quietly said: "I don't know. It's magic… maybe."
*****
Thank you Veljko Despot©
Translation by Martin Mayhew. Copyright to the original text is owned by Veljko Despot.
More Beatles interviews here