Issue 1005 of the Yugoslav informative weekly VUS – Vjesnik u srijedu (Herald on Wednesday) published in Zagreb on 4th August 1971 contained an interview with John Lennon and Yoko Ono by the Croatian journalist Konstantin Milles (Miles). This interview has seemingly never been published in English. So, I decided to translate the text as it was printed in VUS. Obviously my translation will not be an exact transcript of the original conversation but I think it provides an interesting insight into Lennon's thoughts on communism, Yugoslavia, art, politics and of course The Beatles.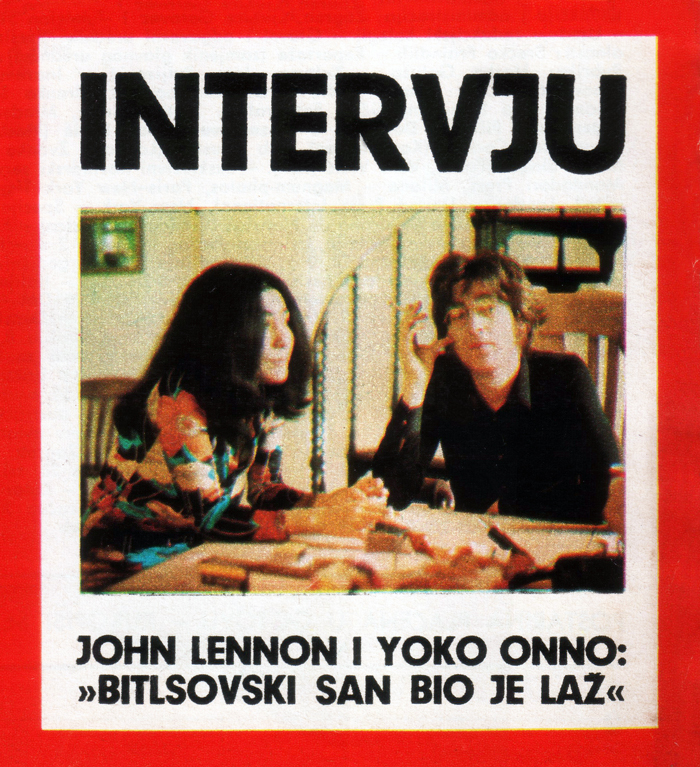 Konstantin Milles interviews John Lennon and his no less famous wife Yoko Ono. Lennon now claims that the "communist press" did not make much of a mistake when it previously wrote that the "Beatles were a weapon of capitalism and imperialism" and that he attacked his former colleague Paul McCartney for being a right-winger (read "conservative") , that George Harrison immersed himself in religious mysticism, and he says that Ringo Starr never knew or understood anything. "I woke up", Lennon says about himself.
"It be must here!" the driver said to me, turning around in his seat. "This wall looks doubtful!" Shortly before that we had rushed out of the centre of Ascot, about an hour's drive from London, and now we were driving down a narrow road that meandered through an unusually dense and beautiful forest, with only glimpses of old mansions built like former castles and small country houses. Only the richest residents of London live in this blessed corner of England.
The wall was three metres high, made of stone, at least two kilometres long. When we got to the end of it, I spotted a group of American hippies, standing at the gate and staring "lost" inside. At that moment, I realised two things: that we had indeed reached Lennon (which in the given circumstances had only a practical significance) and that the persistent rumours about the decline of the Beatles' popularity were not in the least bit true – even though they no longer existed as the Beatles but as John Lennon, Paul McCartney, George Harrison and Ringo Starr. Later, during the conversation, Lennon gave me a very convincing verification of the financial-statistical type, which surprised me a little… because pop music was always something I had never been "in to" to such an extent that it could satisfy any of its ardent admirers.
About three months ago I had sent Lennon a telegram asking to meet up again. I had been to London a few times in the meantime, but we still hadn't met. I knew why: he had been travelling unusually a lot again lately, and that, unlike in the past, it was due mostly to "private business." He had been in New York twice to track down Yoko's son (sic – daughter) with the help of the local private and official police and fabulously expensive lawyers, and to take the boy (sic – girl) back from his (sic – her) father, Yoko's first husband through the courts, (Yoko later told me that her "dad" was also involved, and when I asked her if it was true that her "dad" was a rather rich Japanese banker, she burst out laughing and said: "Well you see, John can't complain that he's poor, but his money is peanuts compared to what my family has in Tokyo. I know it's not tasteful to talk about it, but, you see, when I was little, I was told at home that there were only three families in all of Japan, apart from the imperial family: the Mitsui, Mitsubishi and my family." I said: "Then that means that together with the Mitsuis and Mitsubishis, it was, in fact, your family that prepared Japan to enter the Second World War!" Yoko Ono calmly replied: "Yes, that's right! These have always been the three most powerful families in Japan… something like the Japanese Krupps or Rockefellers… the owners of real empires of banks, companies, industries. It is natural that my family is connected to them anyway, besides business. Let's say my brother doesn't work with his father, he works for Mitsubishi." I couldn't resist asking her how she got along with "dad" and "mum," considering what she had "done" and what she was "doing." She said: "In the beginning, they simply fainted, figuratively speaking. Then they, at least I think so, found a solution that suited them best: they concluded that we were nevertheless a family who could accept everything!")
The very same glasses
I had a great, almost three-hour-long interview with Lennon in the spring of 1969 in Amsterdam. However, there then came the famous Beatles' breakup (something he had hinted to me indirectly back in that first interview) and a series of Lennon interviews, mostly with the American hippy press and the most biting trends of the "new left." I suddenly found Lennon interesting again. All the more so since in several interviews, he had mentioned his great desire to see what was happening in Yugoslavia. We drove through the gate past that group of American hippies. Suddenly a huge white, snow-white or lime-white house appeared in front of us — painted just like the walls of Apple's building in London's Saville Row. (I remembered that Lennon had always been fascinated by white.) I walked up to the door and rang the bell. Two minutes passed, but no one appeared. I peeked through the little window by the door. In the room I looked into all that could be seen was a forest of film cameras, spotlights, power cables, ladders – all in a terrible mess. I pressed the bell again, but I didn't hear its ring. I began to bang on the door, louder and louder. Still no reply. We walked around the house. Through one window on the ground floor, I spotted Lennon and Yoko Ono. They were sitting at a wooden table in a huge kitchen with some unknown people. Music was playing. I knocked on the window, feeling like Santa Claus. Lennon noticed me, put his hands together jokingly as if praying me to do something, and gestured to me to go to the last, fourth side of the house and enter through the door that came out to the garden. There I was greeted by Diana (Vero?), Lennon's secretary and runner, an attractive and still quite young girl with the look of a typical London "schizo." A little later we were sitting at that big wooden table in the kitchen (Lennon explained to me that the house was "a real madhouse" because the whole lower part was being converted into a film studio, whereby three rooms would be arranged as the Yoko Ono Personal Museum. At that moment, I remembered that I had completely forgotten the fact that Yoko was a sculptor, but not only that. But, more about that later).
John Lennon is now 30 years old. Nothing much had changed since our last meeting. This claim categorically warrants an explanation. In Amsterdam he had long hair and a beard. Today's Lennon only has relatively long hair, he is completely shaved, because his beard has disappeared, and quite thoroughly: today not only does he, let's say, shave with an electric appliance but shaves to such an extent, probably with two or three shaves, that his face is as smooth as a newborn's bottom. He maintains his sideburns, "typically English" and ginger. The glasses have stayed the same: the "anarchist's design" from the last century with a thin, totally round metal frame. Through their lenses, the penetrating gaze of two blue eyes greets the interlocutor. The look is most usually suspicious: suspiciousness has probably, and he has had a reason for it, become Lennon's "second nature." Jeans and a plain shirt with an unbuttoned collar, close-fitting to a rather well-built, but nevertheless weak body, which, together with the physiognomy, still acts like a dynamo. Just like that, seemingly weak, but full of some inner dynamics, Lennon is actually the image and figure of a young man who is liked by today's girls (if you can judge by what kind of young men the most beautiful girls go out with in London, Paris, Stockholm, Copenhagen… in fact, any Western European city – "Tarzans" seem to be simply out of fashion, and the glasses are more of a plus than a minus. Regardless of the fact that in England one of the great "sexual symbols" is Tom Jones, who still, let's say, looks different, doesn't he?) Lennon has his own opinion about this, which, admittedly, he expressed indirectly and inadvertently, almost inadvertently in one completely unrelated conversation. When we finished the interview and returned to the mansion from the park that surrounds it (it has the dimensions of Maksimir Park and like Maksimir it has its own large natural lake with reeds), we chatted for a while in the kitchen. Yoko told me how she met the famous Japanese writer who shook the world a few months ago with a failed coup attempt and then his successful hara-kiri. "One evening he was sitting right next to me, but he didn't say a single word to me, which was just plain rude! He was otherwise a physically very handsome man!" At that moment, Lennon's voice was heard: "Yeah, he was handsome. He was one of those crazy body-builders. He was in short – a homosexual! A notorious homosexual! I read somewhere that all the forces in the SS troops were like that! The most disgusting reactionaries and fascists were often like that!" Lennon said this calmly, as though the most banal of facts were being stated, but still, I could not escape the impression that not even hara-kiri could have saved the Japanese writer from Lennon's aversion. An aversion that was not caused by the writer being homosexual, but simply because with his rude behaviour he had neglected the woman Lennon who loved to such an extent that the term "head over heels" is still valid today. It would be difficult for anyone who has not seen Yoko Ono in person to understand that she is actually a very handsome, physically attractive, beautiful young woman, full of that charming kindness that adorns all Japanese women, whether beautiful or ugly. The only misfortune is that – and I told her, and Lennon confirmed it with unusual zeal – that she is simply not photogenic. In every photo, she looks at least ten years older, the glow of her eyes is lost, the colour of her skin is distorted, the refined anatomy of her face is distorted… and millions of readers around the world wonder "what Lennon saw in her."
Lennon wants to go to Yugoslavia
Whilst Barrie Wentzell arranged his cameras and I slowly set up the tape recorder, we sat and chatted.
"What's new in Yugoslavia?" Lennon asked me.
"You have no idea how interested we are!" said Yoko.
At first I felt the temptation to simply reply: "Well come, and you'll see!" Hic Rodhus, hic salta! But at first the main thought that run through my head was that their question was an expression of conventional decency, of attention towards a guest, who is from a small country, to which I am always allergic. Or that their various statements lately about wanting to visit Yugoslavia were in fact just mere affectation. However, I realised that they were both looking at me with serious, calm looks, with the look of someone who has asked an honest and serious question and who wants a serious answer has.
"What's new, you ask?" Last time, in Amsterdam, I told you about the introduction of self-government in Yugoslavia. This is always new because it's something in which something new is constantly happening. What is "old", in a way, is that we want to show that something that no one has achieved so far can be achieved: communism plus personal freedom plus a high standard of living. But, we are not doing it in order to show the world that it is possible. We are doing for ourselves first of all. We're not asking anyone to learn from us."
"I have listened and read a lot about what is going on in your country. Yoko and I would be overjoyed if we could visit your country and see everything! So that we can talk to your people, to your students, workers and intellectuals, to tell them about our ideas, to show them our films…"
However later, in a completely different context, I realised that to Lennon some things about Yugoslavia were still not clear, although he sincerely loved Yugoslavia and its efforts (he told me that "strong vibrations" were coming to him from Yugoslavia, which has nothing to do with telepathy, as one might think, but is simply a term used by hippies when talking about someone or something who or what is doing some, most often mental activity that provokes their sympathy. In the broadest sense, "catching someone's vibrations" means the same thing as "working on the same wavelength" in our jargon) however, some things connected to Yugoslavia are not clear. If everything about Yugoslavia was clear to him, he would certainly not have asked me the absurd question of whether the sale of his record Power to the People was permitted at home!
KM: So, the tape recorder is plugged in, checked and tested. We can start the interview. Please answer me one simple stupid question: "How are you?"
JL: I'm fine. And you?
KM: I'm fine too. However, please explain to me in a little more detail why you are fine.
JL: I understood the essence of your question exactly and I was just kidding. How am I you ask? In the full bliss of creative work! Me and Yoko are working like crazy. I get the impression we don't have a minute to spare. Well, I just finished a new album (Imagine), which will be released in the autumn, we are finishing a TV film about that album… actually a film about ourselves, about us, Yoko has published a book that we will give you as a gift (Grapefruit) because we care about it a great deal, and two days ago she completed a theatrical piece (Film No. 12 – Up Your Legs Forever?) that will be premièred on Broadway in September. If you come, we'll get you a ticket, I'm composing, we're sorting out the house, Yoko's making statues, which I'm sure you can see…
KM: If we can make an arrangement and you come to Zagreb, perhaps Yoko could organise an exhibition of her works there?
(Afterwards, I toured Yoko's studio and "museum" in several rooms of the mansion. It is quite certain that an exhibition in Zagreb would be a sensation. And that even visitors who have little to do with art would come too. Due to certain circumstances.)
JL: Absolutely.
YO: Absolutely. Only some of your people might not like some of the exhibits! There might be some misunderstandings…
KM: I don't believe that would discourage you. After all, you've already got used to it, here in London. But, you see, my consciously formulated question had one other subtext, so to speak. How emotional you are after everything that happened after our last meeting, particularly in recent times.
JL: We are in full creative bliss. And that, I think, means we're emotionally excellent, too. Apart from that, I'm as fit as a fiddle.
KM: In many reports about you, in several interviews that you have given, the thought, like a leitmotif permeates, often highlighted in the title, that "the dream is over", that "the dream has come to an end", that you have "woken up"… all along those lines. Does that bother you? It's almost as if the journalists agreed to point it out!
JL: But, that's right! What happened before – was a dream! It was a youthful, pubescent dream. But, I'm not young any more: I'm thirty, man!
KM: You seem to be happy to talk about that dream!
JL: People think it that was a magical Hollywood dream. A story of four young men who succeeded fantastically. Yes: we had millions of dollars, millions of girls, at every step, after every performance, fame… but it was still a nightmare. Only we didn't see it then…
KM: As you talk about it, you speak with bitterness. Everywhere, in every place. And you talk about it with some almost masochistic pleasure…
JL: I want to tell people the truth: that the Beatles' dream was a mere illusion.
KM: Why do you think that?
JL: I realised that the ruling class was exploiting us, abusing us for its own purposes. You see, back then, at that time, we found it funny when the communist press wrote that we were "the tools of capitalism and imperialism." I see they weren't so wrong. We didn't think we were creating revolution…
"We met conceited people"
KM: … and in fact, those who rule, those who hold the money and power, used you for their own purposes…
JL: It's not so simple. The Establishment (the ruling class…. ) gave us a high medal, took almost all our money, gave us a medal instead of, let's say, lowering our taxes… the people who we met on our tours were all just bureaucratic and plutocratic "money men", police chiefs, diplomats, conceited… not real people. It was all so unreal! In the first ten rows at our concerts, there always sat the "money men", "the fat cats", their wives and daughters and they rattled with jewellery. In America, we were invited to a reception at the British Embassy and there we were treated like we were trained circus animals, penguins, even the ladies in gowns and their bastards cut off the hair of poor Ringo so that they could boast about it. Do you think that could happen to us in some working-class family in Liverpool, huh? But, nevertheless, it amused us, it was great for us. Now I've finally grown up. Now I will no longer allow anyone to exploit me for their own purposes, to fool me…
KM: You realised something more important. You, with your "Beatlemania", as it was called then, in a way played the role of an "Establishment" tool because you channelled the amassed energy of the young people, the energy of dissatisfaction and protest, into safe and calm waters: long hair, guitar pounding, revolutionary clothing in place of revolutionary activity… And now you see, as you yourself said, that everything has stayed the same, that the same guys have the money and power, whilst others do not…
JL: In essence you're right, but it's not so simple. Maybe the "Establishment" thought so, however, we still played the role of a Trojan horse in some sense of the word. We did – and not only us but others too, nevertheless play a role that must be acknowledged – we helped young people to start thinking differently, to "liberate" themselves from the burden and compulsion of tradition, to start thinking more elastically, to start to see some things… Of course, we did wander ourselves… and that's where I'm talking about myself first of all. Surely you remember: I was taking drugs, I tried to embrace some oriental religion… don't you see how unhappy, confused, crushed I was by what had happened to me… and how desperately I tried to free myself, and that means to return to reality. At times it seemed to me that I was riding on an express train that was rushing towards a collision, and I couldn't jump out of it. So, I repeat: we taught young people to start thinking differently.
Conflict at the end of the road
KM: You said that as a young man you were "class conscious", and then you simply forgot about it…
JL: And who wouldn't forget that, man?! Well, I was young, practically still snotty, when all of that fell on us. I completely lost my compass, all touch with reality.
KM: And do you think you have it again today?
JL: I think I do have it. I don't dream any more. I'm no longer in a dream state. I've woken up and I think that's enough… for a start.
KM: Did Yoko open your eyes, can we say that? I'll try to remember. You The Beatles were actually Establishment pets, "decent kids", darlings… whereas the Rolling Stones were persecuted!
JL: If you think that Mick Jagger is interested in politics and if they ever interested him – you're wrong. He was just "performing"… and it was so brutal and vulgar that the Establishment was appalled. You see, let's take the question of our medals. Okay, they gave them to us, but that's why they were ignorant. A few months before that, the book Love Me Do was published, a brilliant book, which went unnoticed at first and only became known later. In that book the author published his conversations with me, in which I said clearly how much I hated the Establishment, the Queen, the palace, aristocrats, the "big money men." If they had read the book, they would never have given me the medal. This way they just gave me a chance to give it back to them at the most convenient time for me.
KM: Derek Taylor (the Beatles' former press chief) once told me that you were a communist by conviction. Don't be offended, but I couldn't believe my ears. And even after that, I couldn't believe it.
JL: I don't belong to any party, not even the communist one, but all my sympathies are on the side of communism. I believe in communism as a system to which the future of humanity belongs. Of course, I believe in that real communism… in the one that I believe that you Yugoslavs are trying to create right now.
KM: But, let's talk a little about the breakup of the Beatles.
JL: We are talking.
KM: You see, when I heard that you'd broken up, I felt sympathy for you. Suddenly it was as if I realised you were an honest, fair guy. Don't get me wrong, but to kill a goose that lays golden eggs… you know what I mean… So my question would be: Regardless of what was said and written, regardless of the rumours, there must have been something fundamental in that breakup, something more important than a simple personality conflict between you and Paul, a conflict over whether his brother-in-law would become Apple's director or your man… that there was something fundamental and serious… something connected to art and something maybe connected to politics.
JL: Yeah, you guessed correctly. That's right. Yeah, it was about politics and art. You see, Paul is simply right-wing (read "conservative") and that's it. I couldn't take it any more, I couldn't work with him any more. And as for the music, so art, let's say…
KM: You came to a dead-end as a group, you came, put more precisely, to the end of the road.
JL: Yes. And that's right. I wouldn't hesitate to say that. We came to the end of the road. We couldn't go any further if we wanted to go forward. But when we talk about politics, then it was a conflict between Paul and me, because he is right-wing (read "conservative"). The other two had nothing to do with that. George was completely immersed in religious mysticism, and as for Ringo… he never knew or understood anything anyway.
KM: Let's return to the prosaic stuff. How are you doing today – financially? This is about the golden goose, of course!
JL: Believe it or not, I can tell you this: today we, by making records as individuals, when it all adds up… are actually making more than we ever earnt as the Beatles. Think of it: even Ringo's records sell in their millions!
KM: I will say something about what others are talking about, but also what I also sensed in some unrelated conversations at Apple. The Beatles fell apart when Yoko appeared on the scene. Before that, you were talked about as one body with four heads, that is, four bodies and one head… Lennon's.
JL: Yes, that is what was meant and in some way it was true.
KM: This other?
JL: Yes. You see, I don't suffer from false modesty, but maybe from too much honesty… that's what Yoko has just encouraged in me… which isn't always healthy… but that's how it was. Of course, it must have bothered Paul, it must have eaten away, God, it must bite. Whilst we were together, in order it went: me, then Paul, then George a little. Ringo never meant anything, but he's such a great guy that he never got mad about it. He was always, so to speak, conscious of the limits of his abilities. However, if you think Yoko made us fight, you're wrong: a woman cannot come between four adult men if they have some strong common interest. Besides, they also, as a matter of fact, had their wives, so that means nothing. We came to an artistic end as a band when we recorded our last double album. Later I broke up with Paul because he is right-wing (read "conservative"). There, so it was that simple!
Perhaps the most valuable thing was that we helped the young people to become mentally free so that they stop thinking in the patterns that tradition has wound them up in. – John Lennon
In July 1985 the interviewer Konstantin Miles was interviewed by Denis Kuljiš in Studio magazine:-
DK: Surely your most famous interview was with John Lennon and Yoko Ono.
KM: I had two interviews with them. The first was when I found out through some fellow journalists in London that Lennon was travelling to Amsterdam with his wife. I was just about to buy a Burberry coat, but instead, I spent that money on a plane ticket and went to the Netherlands. I was asked for a visa at the airport there, but I didn't have one. They took me to a supervisor who was a civilized native of Papua, very kind, who allowed me to stay. I found Lennon in a hotel, through his press manager, who allowed me to stay for ten minutes and talk about the act of lying in bed by which John Lennon and Yoko Ono were protesting for world peace… However, I stayed for three hours. I somehow managed to get a very good vibe from him, he was a very bright, and actually very handsome man. When I told him he was a pantheist, he didn't hesitate at all to ask what that was. Yoko Ono was lying in her nightgown, and he was in his pyjamas, we were talking, whilst the head of the press kept winking at me to go out… Then Lennon threw him out of the room.
DK: When did you have the next interview?
KM: The Beatles had just split up, and Lennon had bought a house in Epson. In the beautiful ambiance, there was a white piano – Lennon played on it with one finger and sang to me. I intended to go and meet him in New York, for a third interview, but he was murdered in the meantime. He was pleased with our first conversation, he had said that it was one of the best he had given for a newspaper. I did send him a translation of the interview, it was about 40-50 pages long…
DK: Has everything been published?
KM: Only one part.
DK: Did you ever think of publishing a book of your interviews?
KM: Nobody made me an offer, and I didn't want to. I'm quite lazy.
(Konstantin Miles died in 1989, he had no heirs because his son and daughter died before he did, both committing suicide. Konstantin's widow died in 2017. His 1969 Amsterdam interview with John and Yoko was published in Studio magazine and I have translated it HERE)
On a lighter note, in 1969 John and Yoko posted 2 acorns to Yugoslavia's President Tito (1 of 50 world leaders at the time) to be planted as part of their quest for world peace.
NB: In May 2022 I found another interview from the same magazine this time from 1970 with Ringo Starr here