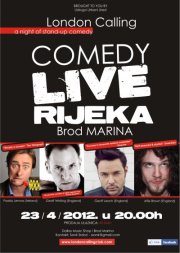 Brod MARINA – 23.4.2012
LONDON CALLING COMEDY is back in town!
Kontakt osoba – Sonir Srdoč 091 5109 621
Rezervacije karata/ticket reservations:
Zagreb: ssonir@gmail.com
Britain's rising young talent, a true English gentleman and Paddy's return!
MC: Geoff Whiting (England)
HEADLINE ACT: Paddy Lennox (Ireland)
OPENING ACT: Alfie Brown (England)
MID ACT: Jeff Leach (England)
Organizatori/Organisers
Udruga Urbani Ured
Sonir Srdoč
Kontakt osoba – Sonir Srdoč 091 5109 621
Ulaznice u pretprodaji od ČETVRTKA, 12.4.2012:
Dallas Music Shop i Brod marina
Na dan predstave 60kn u predprodaji 40kn.
GEOFF WHITING – England
"wonderfully confident, highly entertaining…" Scene Magazine Bristol
Celebrating 15 years on the stand-up circuit, Geoff has a wealth of experience in working at all the notable comedy clubs in London, UK and in Europe from audiences of 12 to over 1,000 people. His entertainingly funny, strong, versatile act launched his career not only on stage as a stand-up comedian but equally on the TV screen with regular appearances for the BBC and radio.
Interestingly, he is one of only a handful of comics worldwide to have performed stand up comedy in a pod on the London Eye (for BBC: The One Show). Over the years, Geoff has worked alongside some of Britain's most famous household named comics such as Michael McIntyre, Harry Hill, Dara O'Briain, Omid Djalili, Lee Mack and Lee Hurst.
ALFIE BROWN – England
"Immensely self-assured and stylish" – The Guardian
Alfie Brown is a comedian and presenter from South-West London and in 2006, at the tender age of 17, Alfie launched onto the comedy stage and has since established himself as one the most exciting people currently rising in the field. Described as stylish and unique as well as 'One of the best young comedians around' (Time Out), Alfie has a bullet-proof arrogance combined with thoughtful, passionate perspective on a range of topics that somehow sets him apart from the others.
Already at such a young age in his developing, exciting career path, he has managed to feature on primetime TV (BBC2) and has performed his stand-up at the 550 seater Lyric Theatre in London's west end. Alfie is a devotedly passionate Liverpool FC fan.
PADDY LENNOX – Ireland
"Simply a scream." The Telegraph
In February, Paddy burst on stage with London Calling and became an instant hit with Croatian audiences, so we've asked him to return for his 2nd London Calling Tour! Paddy is an engaging and instantly likeable comic, with a warm and natural approach, combining topical material, observational routines with impressive improvisation and banter to give you some great entertainment.
Recently, Paddy's been working the corporate scene including shows for the BBC, ITV and Radio. As an accomplished comic actor, he has already created a pretty impressive list of theatre, film and TV performances. Paddy tries to play the piano to help him unwind.
JEFF LEACH – England
"Summer's favourite festival comedian!!" – Esquire Magazine
Jeff Leach quite simply is hilarious, entertaining and the girls love him! Geoff started his journey as a DJ and quickly made his way onto TV as a presenter before appearing as host of UK's Big Brother in 2009 as well as other BBC, ITV and Channel 4 shows. He started doing stand-up comedy in February 2010 and is set to be a household name that just seems to be getting stronger within the comedy circuit across the UK.
He performs his own revealing brand of stand up comedy whilst writing and performing sketch and character pieces. In the past year he has become a London New Comedian Awards Finalist and Leicester Square New Comedian semi-finalist and performed sold out shows at the Edinburgh Festival. He's one to watch out for and we are delighted to have him with us on tour in Croatia.
http://www.londoncallingclub.com/