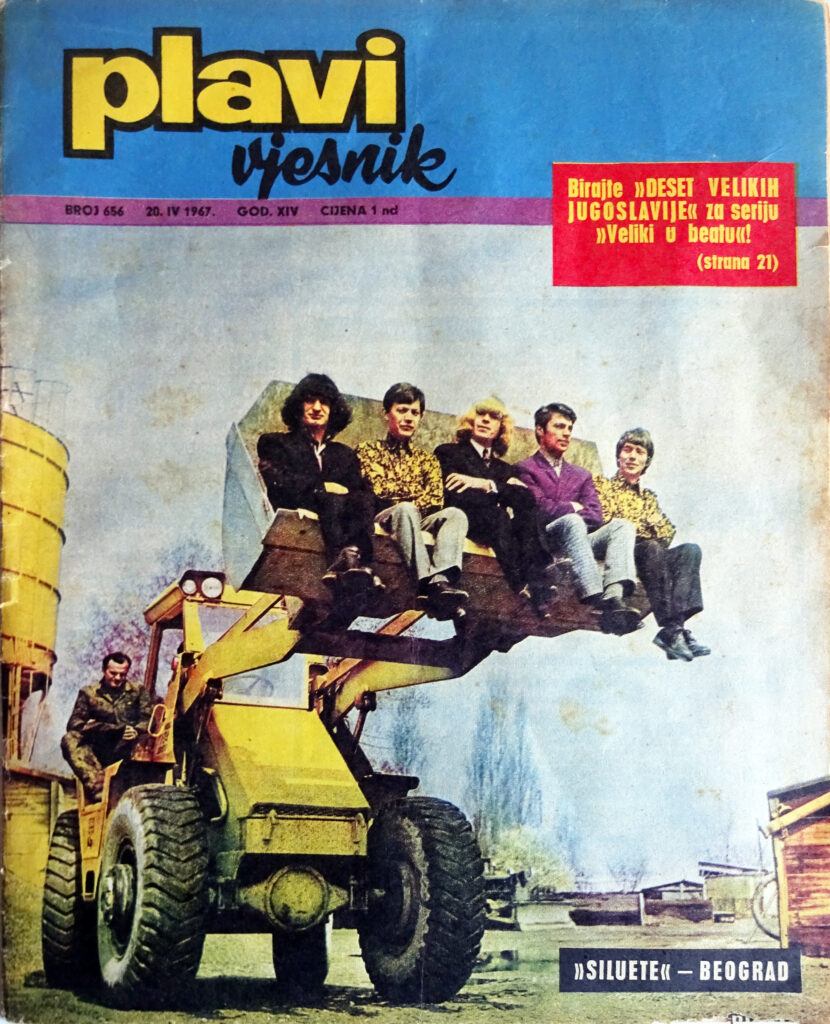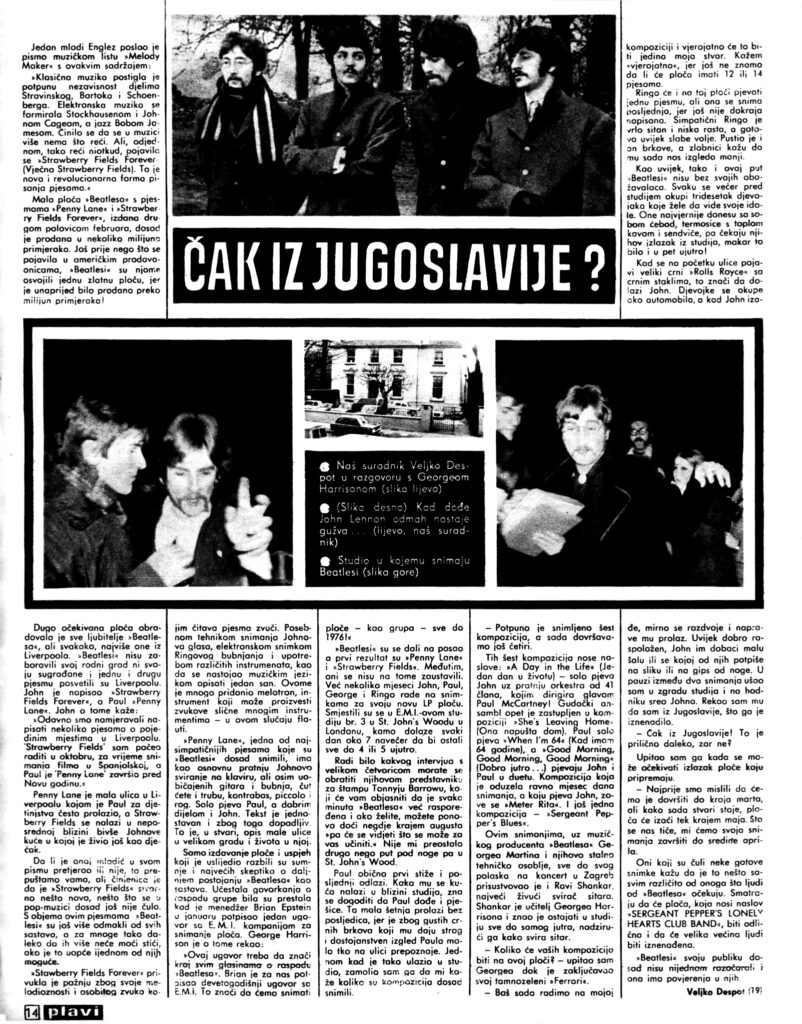 On page 14 of issue 656 of Plavi Vjesnik (Blue Herald) published on 20th April 1967 in Zagreb there is a short report by Veljko Despot about The Beatles from Abbey Road Studios where they were recording the now legendary album Sgt. Pepper's Lonely Hearts Club Band. He was lucky enough to chat with them and discuss the as yet unreleased recordings outside and inside the studios.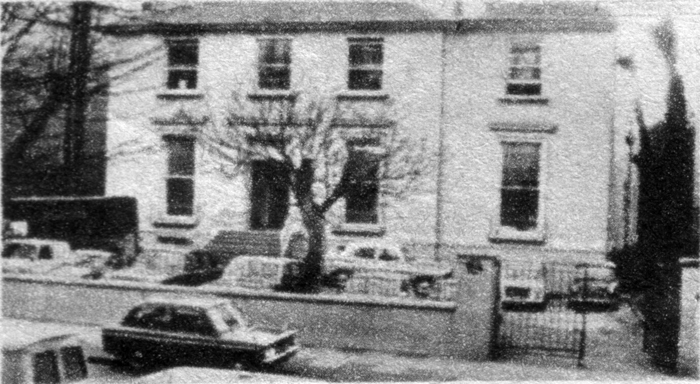 I have translated this article direct from a printed copy of the weekly magazine – including the titles of some songs as they were published.
I believe this is the first time the text has appeared in English anywhere.
******
ALL THE WAY FROM YUGOSLAVIA?
One young Englishman sent a letter to the music paper Melody Maker saying:
"Classical music has achieved complete independence with the works of Stravinsky, Bartók and Schoenberg. Electronic music was formed by Stockhausen and John Cage, and jazz by Bob James. It seemed that there was nothing else left to say in music. But suddenly, so to speak, out of nowhere, Strawberry Fields Forever appeared. This is a new and revolutionary form of songwriting."
The little record by The Beatles with the songs Penny Lane and Strawberry Fields Forever, released in the second half of February, has so far sold several million copies. Even before it appeared in American shops, The Beatles won a gold record with it because over a million copies were sold in advance!
The long-awaited record has pleased all of The Beatles' fans, and most certainly those from Liverpool. The Beatles did not forget their hometown or their fellow citizens and dedicated both songs to Liverpool. John wrote Strawberry Fields Forever and Paul wrote Penny Lane. About which John says:
"We've been intending to write a few songs about certain places in Liverpool for a long time. I started working on Strawberry Fields in October, during the shooting of the film in Spain, and Paul finished Penny Lane before the New Year."
Penny Lane is a little street in Liverpool that Paul used to walk down as a child, whilst Strawberry Fields is located right near John's former house where he lived as a boy.
Whether that young man was exaggerating in his letter or not, we leave it up to you, but the fact is that Strawberry Fields really is something new, something that has not been heard in pop music before. With both of these songs The Beatles have gone further than all other bands, and so far for many that they won't be able to reach them if that's even possible for any of them.
Strawberry Fields Forever has attracted attention because of its melodiousness and the special sound that the whole song creates. With the special recording technique of John's voice, the electronic recording of Ringo's drumming and the use of various instruments, as though a dream was trying to be described in the language of music. This was greatly contributed to by the Mellotron, an instrument that can produce sounds similar to many instruments – in this case the flute.
Penny Lane, one of the nicest songs that The Beatles have recorded so far, has John playing on the piano as a basic accompaniment, however, in addition to the usual guitars and drums, you will also hear a trumpet, double bass, piccolo and horn. The solo is sung by Paul, and for a good part, John does too. The text is simple and therefore appealing. It is, in essence, the description of a small street in a big city and the life on it.
The very release of the record and the success that followed dispelled the doubts of even the greatest sceptics about the continued existence of The Beatles as a group. The frequent rumours about the breakup of the group ended when manager Brian Epstein signed a contract with the company E.M.I. in January about recording records. About which George Harrison said:
"This contract should put an end to all the rumours about the breakup of The Beatles. Brian signed a nine-year contract with E.M.I. for us. This means we will make records – as a group – right up until 1976!"
The Beatles went to work and the first result was Penny Lane and Strawberry Fields. However, they have not stopped there. For several months already, John, Paul, George and Ringo have been working on recordings for their new LP. They have settled in E.M.I.'s studio no. 3 (sic) in St. John's Wood in London, where they arrive every day around 7 in the evening to stay until 4 or 5 in the morning.
For any interview with the Fab Four, you must contact their press officer Tony Barrow, who will explain to you that every minute of The Beatles' time has already been arranged and if you want you can come back sometime at the end of August "to see what can be done for you." There was nothing else for me to do but set off to St. John's Wood.
Paul was usually the first to arrive and the last to leave. As his house is located near the studio, Paul sometimes arrived on foot. This little walk passes without consequences because few people on the street recognise Paul due to his thick black moustache that gives him a stern and dignified appearance. Once when he was entering the studio like that, I asked him to tell me how many compositions they had recorded so far.
"Six compositions have been recorded completely, and now we are finishing four more."
These six compositions are: A Day in the Life – John sings solo accompanied by a 41-member orchestra, directed mainly by Paul McCartney! There is another string ensemble in the composition She's Leaving Home. Paul sings When I'm 64 solo, and Good Morning, Good Morning, Good Morning (sic) is sung by John and Paul as a duet. The composition, which has taken exactly one month to record, and which is sung by John, is called Meter Rita (sic). And one more composition – Sergeant Pepper's Blues (sic).
Until his departure for his concert in Zagreb, Ravi Shankar, the greatest living sitar player, attended these recordings along with The Beatles producer George Martin and their permanent technical staff. Shankar is George Harrison's teacher and used to stay in the studio until the wee hours of the morning, watching him play the sitar.
"How many of your compositions will be on this album?" – I asked George as he locked his dark green Ferrari.
"We are working on my composition right now and it will probably be my only thing. I say "probably" because we still don't know if the record will have 12 or 14 songs."
Ringo will also sing one song on this record, but it'll be recorded last because it hasn't been written fully yet. Cute Ringo is very petite and short, and almost always timid. He also grew a moustache, and critics say his nose looks smaller now.
As always this time too, The Beatles are not without their fans. Every evening, around thirty girls, who want to see their idols, gather in front of the studio. They most faithfully bring blankets, thermoses with hot coffee and sandwiches with them, waiting for them to leave the studio, even if it is at 5 in the morning!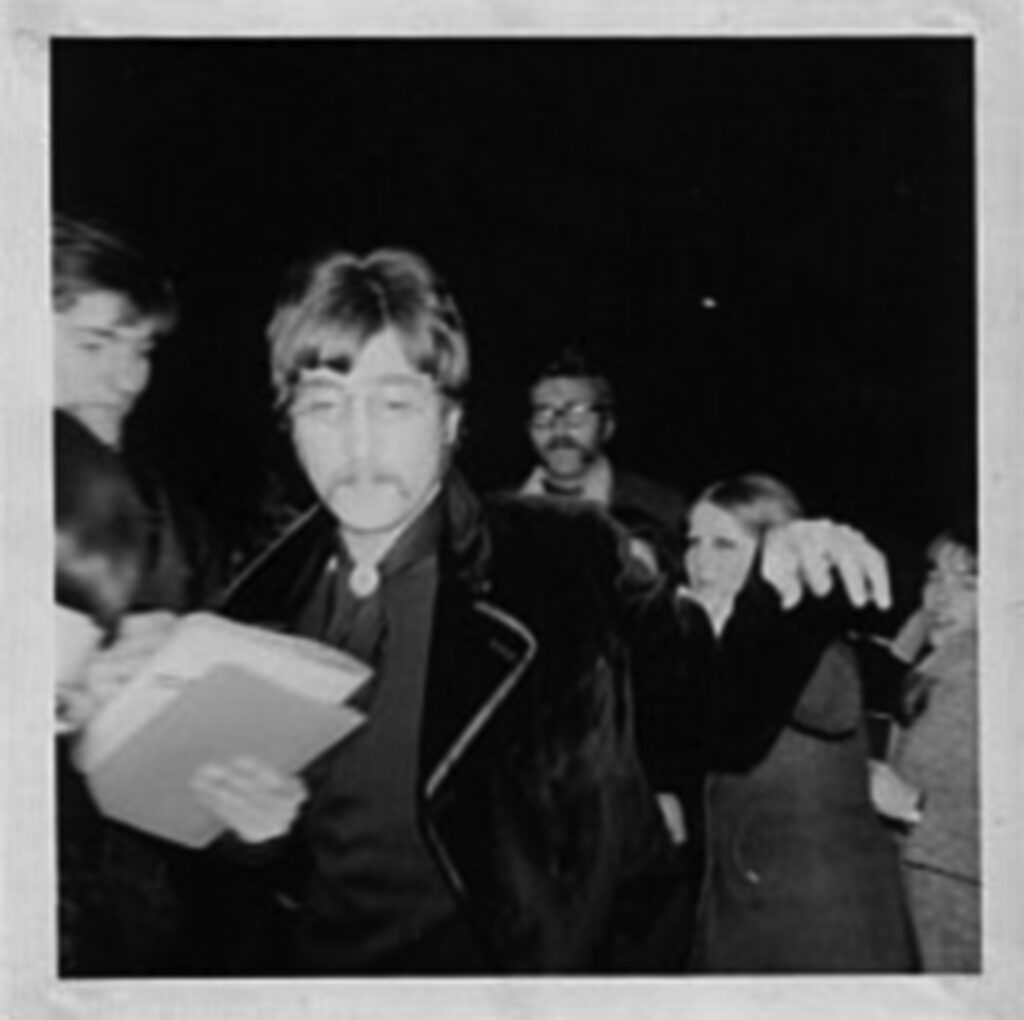 When a big black Rolls Royce with black windows appears at the end of the street, it means that John is coming. The girls gather around the car, and when John gets out, they calmly separate and make way for him. Always in a good mood, John cracks a little joke or signs a picture or leg cast for some of them. During a break between two recordings, I entered the studio building and met John in the hallway. I told him that I was from Yugoslavia, which surprised him.
"All the way from Yugoslavia? That's quite a long way away, isn't it?"
I asked him when we could expect the release of the record that they were preparing.
"At first we thought that we would finish it by the end of March, but as things stand now, the record will not come out until the end of May. As for us, we will finish our recordings by the middle of April."
Those who have heard some finished recordings say that it is something completely different from what people expect from The Beatles. They think that the record, which is called SERGEANT PEPPER'S LONELY HEARTS CLUB BAND, will be excellent and that the vast majority of people will be surprised.
The Beatles have not disappointed their audience yet and they in return still believe in them.
©Veljko Despot (19)