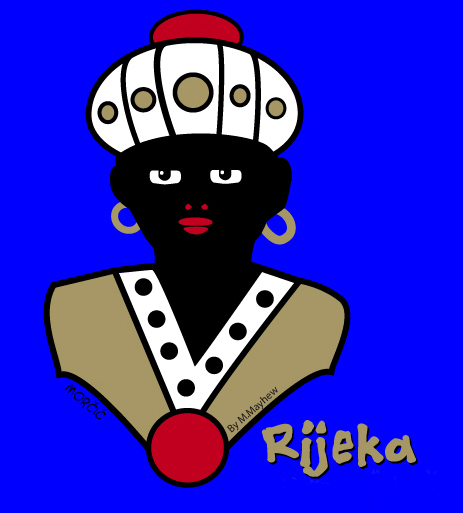 The image of a young, black, servant dressed in fine clothes, wearing a turban, encrusted with gold and jewels, was adopted as the symbol of the city of Rijeka.
Known locally as 'morčić' its origins could be dated back to the 17th-18th century and the Venetian 'moretto'. This was the time when the nobility was obsessed with all things from the Orient and North Africa including Moorish slaves "imported" from Muslim countries. The Venetian nobility would dress-up their pages and servants in fine clothing and jewellery to show off their own wealth and extravagance. In their image various figurines and  jewellery were designed and produced (a style later referred to as 'Blackamoors').
This symbol was soon transmitted to Rijeka (Fiume) where similar forms of jewellery were manufactured by local goldsmiths and this soon seeped into tradition among the women of the region, especially in the form of earrings.
Singularly worn earrings also became popular with their sons as well as sailors and fisherman for whom they became talismans and lucky charms. The 'morčić' became as symbol of wealth and prosperity and these pieces of jewellery were soon passed down through the generations from mothers to daughters throughout the Rijeka region.
This tradition reached its peak in the mid-19th century with the establishment of the Gigante & Co. and their production of earrings, brooches, pins and necklaces.
After WWII many goldsmiths of the Rijeka region, who had been producing the now locally renowned pieces of golden jewellery, emigrated and so their skills and knowledge also disappeared. It has only been since the early 1990s that the morčić image and jewellery has been resurrected and adopted as the mascot of the city of Rijeka.
The morčić motif can be seen throughout the city and is widely recognised, and jewellery and souvenirs are once again being produced. During the annual Rijeka Carnival (Riječki Karneval) many participants and dignitaries can be seen dressed as 'morčići' reflecting the area's centuries-old tradition.
How are the Morčić souvenirs made? Watch the video…
The morčić has also made its way into popular music – here's Neno Belan's "Rijeka Snova", featuring scenes of Rijeka and the motif of the city, one of my favourites 🙂
More information about souvenirs:
http://www.mala-galerija.hr/morcici.html
http://www.rijecki-karneval.hr/en/
Tražim zaposlenje u području medija/tiska/izdavaštva:
e-mail