WE PRESENT SARAH & THE ROMANS –
a merry group from Rijeka who are winning over the world!
10th October 2017 – Novi List, Rijeka, Croatia. Interview with Ivana Kocijan.
Coming soon from the German publishing house AGR TV Records in Hamburg will be 'First Date' the debut album by the Croatian group Sarah & The Romans. To find out how this cooperation came about, what it means to them, what they sing about in their songs, we spoke to band members: Sara Blažić, Goran Troha and Igor Willheim.
Igor: Six months ago we began to send emails and singles to Europe and America, looking for a publisher for our album. Publishing houses from Canada, America, Sweden and Germany were interested. German companies were the most interested in this regard, and over a few months we reached an agreement with one of them, signed a deal and began the production of the album.
Goran: We were not trying to look for a publisher in Croatia because all the material is aimed at the foreign market, the songs are in English, and the music is such that it is more popular abroad than here.
When will the album be published and what can we find on it? Who are your songwriters?
Goran: We have 11 songs on the album. Of those 10 are original compositions, whilst one is a version of an instrumental on the theme of the movie 'Kekec' ('Good Will is The Best') which we have arranged ourselves. As for the writers, I can say there are many, especially of the lyrics. As the lyrics are in English, we strive that they are written by native speakers. And in this we also have a translator who is following us, Martin Mayhew, an Englishman with a Rijeka address. Who as a translator and musician, has fitted very well into our story. The music and arrangements are written by members of the band.
Igor: The album should be released on 27th October, and in the deal there is also a second album, which we are already working on, all the demo material has been recorded. We are still not sure of the title.
What themes do you sing about?
Sara: The themes are love. The name of the album is 'First Date', as in romance, but also as in the first encounter of our band with the audience… It can be interpreted in various ways, but always positively and with good intention. The lyrics are always of love, optimistic, which is also the message of the bluegrass music that we play: everything is happy, positive, and even when something bad happens, you forget it, carry on and everything is OK.
Your first single 'Smoke in The Wind' from last year was chosen as Bluegrass Song of the Month by the American Akademia Music Awards. What does this acknowledgment mean for you?
Goran: Yes, we sent the song upon the recommendation of one radio DJ from Houston who fell for our music. The song was chosen as song of the month in June in its category. This really did open the door to the music world for us, and with that we gained many contacts. So for example we joined up with a dance troupe from Tennessee who we accompanied for five days in Zagreb, they danced, and we played.
Igor: It was the International Folklore Festival, an excellent experience. The music brought us together and a great collaboration was created and so we will continue to accompany the dance troupe from Tennessee further at European dance festivals. At that time we also got to know a group from Indonesia, amongst whom was Agung who plays the talempong. This is a (audibly) similar instrument to the xylophone and makes a magical tone which so delighted and surprised us that we asked Agung to record something with us, which we then put together in one song. This is the charm of our music, we mix what we like into it. In the same song we also incorporated a flute.
Sara: With that example Igor has described why we think we are original, what our vision is and how we are trying to create a unique sound.
Remind us of when and how the band was formed; who are its members and were you active as such a large group from the beginning?
Goran: The band Sarah & The Romans came into existence in 2014, and currently there are ten members. We have also collaborated with musicians from Ljubljana (Slovenia), some permanent members are from Zagreb. We work in a kind of Rijeka-Zagreb-Ljubljana triangle. We are trying to make our music interesting, original and surprising. One instrument appears in an entire song, a second in two musical sections and then no more. This gives vibrancy, dynamics, and colour to the sound. And for that to function and be interesting, you need to have a little orchestra.
Where do you play the most, where can we listen to you?
Igor: We will have the promotion of the album in Rijeka after it comes out. We perform mainly at festivals.
Where did you record the album?
Goran: The songs were recorded in the Mr Lucky and Just Sound studios in Rijeka and in Metro in Ljubljana. Both the mix and mastering of the songs were finished by Mladen Srića (Rijeka, Croatia), Janez Križaj (Ljubljana, Slovenia) and Eduardo Reynoso Jr. (L.A., California).
You play a unique combination of various genres. What are they?
Goran: We are unique in every case because we don't repeat or copy traditional bluegrass. What is that in effect? It is our polka and waltzes, our European music, central European folk which is permanently in our ears. Bluegrass is acoustic, there are no electric guitars, no drums, it is full of wooden, warm instruments. The whole concept is very optimistic, positive… Such as we are in spirit, so is our music.
Are you recognised in Croatia?
Sara: Yes, we are recognised, but in small circles. However, again we don't play traditional bluegrass. It is not for older audiences, we are making music for the younger people. Radio stations are playing our music, we are played a lot abroad, for instance on British stations, and many more in America… One of our songs was in the Top 10 in Missouri.
Was singer Sara Blažić in the band from the beginning?
Igor: Yes, we met during karaoke shows, she made a great impression on us because she had a very interesting voice. Also with her in the band are the singers Nikolina Akmadža and Matea Dujmović who also plays flute on one song.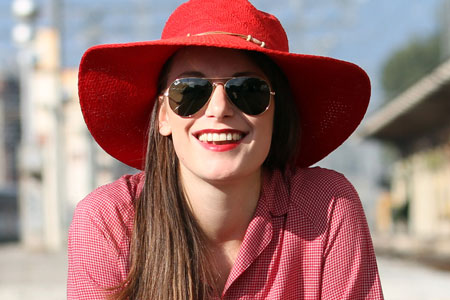 You are collaborating with the 92-year-old singer Bruno Petrali. Can you tell us something more about that?
Goran: Yes, at the same time with the band we are working on the project Sarah & The Romans feat. Bruno Petrali.
Igor: Petrali is a legend. He is 92 years old, he knows everything about music, everything about sport. We have recorded a duet with him, a version of the song 'Una sola volta ci si ama', with his original translation. It was joy to work with Petrali and so we recorded two more songs, a version of 'Bambina' by Neno Belan which he translated into Italian and a version of the song 'Sve moje jeseni su tužne' ('All My Autumns Are Sad') by Žarko Petrović, which Petrali sang originally way back in 1957.
Goran: We are also working on a special album with Iva Santini, a young singer-songwriter from Rijeka, who is also the writer of one of the songs on our first album. The album with Iva will be something very innovative, different. Her genre is folk-ethno, and she usually plays the Celtic harp and ukulele.
Members of the band:
Singers: Sara Blažić, Nikolina Akmadža, Matea Dujmović
Violin: Antun Stašić, Nikola Čeran, Mislav Salopek
Mandolin: Roman Tomašković
Banjo: Goran Troha
Dobro, guitar: Boris Luka Luković
Guitar: Zoran Bebe Petrović
Double bass: Domagoj Zubo Zubović
Harmonica: Ivica Dujić
Drums: Suzan Vidović
Booking manager: Igor Willheim
Guests on the album 'First Date':
Anja Hrastovšek and Jasna Žitnik, Ivana Marić, Artemija Stanić, RiverBlue (Vedran and Ivana Mlakar), Mirna Škrgatić, Mladen Srića, Nataša Manestar, Damjan Vasiljević, Sempre Allegro Choir Rijeka, Dino Džopa Šemsudin, Vanja Dizdarević, Damjan Grbac, Tilen Stepišnik, Dušan Pjer Ladavac, Uroš Šuljić, Žiga Šercer, Nikola Jovanović, Krešimir Kunda, Klaudio Kolar, Petar Tepšić, Rajko Ergić and Ivan Pjerić Dorčić.
(Translated by Martin Mayhew from the original Croatian article here)
Follow Sarah & The Romans on:
Facebook
Youtube
Buy the album 'First Date' on iTunes here.
and Google Play here.